So it's about time that I pick up with my Microsoft certs, seeing as I'm now back in IT. I should have done them a long time ago, but nvm. Now's a good a time as any.
The first thing when embarking on a challenge like this is to set some goals: I want to be MCSE certified within a year, and I don't want to spend too much time (or money) doing it. I also want it to be useful to me (and look good on my CV). Choosing the right track is also important. Have a look at a recent road map here.
I'm choosing the server route. I'm yet to decide which of the MCSE's within the route I want, but the first three exams are all the same.  So 410,411 and 412 to start with. I have a good grounding in MS server tech, having built domains from scratch in the win2k days and working for a length of time in a win 2k3/xp+win7 environment, so I don't think it'll be too difficult to move the core skills into the 2012  exam direction.
First things first…
… I'll be using a set of study books 410, 411 and 412, they don't really cost that much and should be a good resource for the exams. I'll also be using various Microsoft Virtual Academy resources as I go. I can't tell you which ones as I haven't had an in depth look as of yet.
The most important thing I'll be using in my test environment. This will be key, as there's no better way to understand how things work that to get stuck in making them work, breaking them, and fixing them again. It'll also allow me to experiment with redundancy in a safe way, as I really do like pulling network cables out and watching things fail over.
My test environment will be made from a few machines sitting on my home network. The first is my old workstation, 8GB RAM with Intel Core 2 Quad Q9300. I downloaded my images from MS tech-net for 2012 and 8.1 evals (and the tech previews for Win 10) and proceeded to install Hyper-V Server 2012 as a hypervisor for my VM's which I shall use.
FAIL#1 So Hyper-V Server is a server core install with no GUI. Which is great if you know all of the powershell, but I find it easier with a GUI. So, another OS is needed. (I could have left Win7 on the machine and use virtualbox, which is my preferred desktop VM solution, but I thought Hyper-V would be a more interesting learning curve.) So onto Win8.1….
FAIL#2 win 8.1 – no slats?, i'll be honest I don't really know why this is in place, nore do I really care. It's only because i'm running old hardware (I did say I was doing this on the cheap). Off to Windows Server 2012 datacenter it is then.
FAIL#3 managed to install Win Serv 2012 DC, but processor visualization was disable in the bios. Turned it on, and voila – a working Hyper-V host.
Lets go virtual
Got it up and running surprisingly quickly too.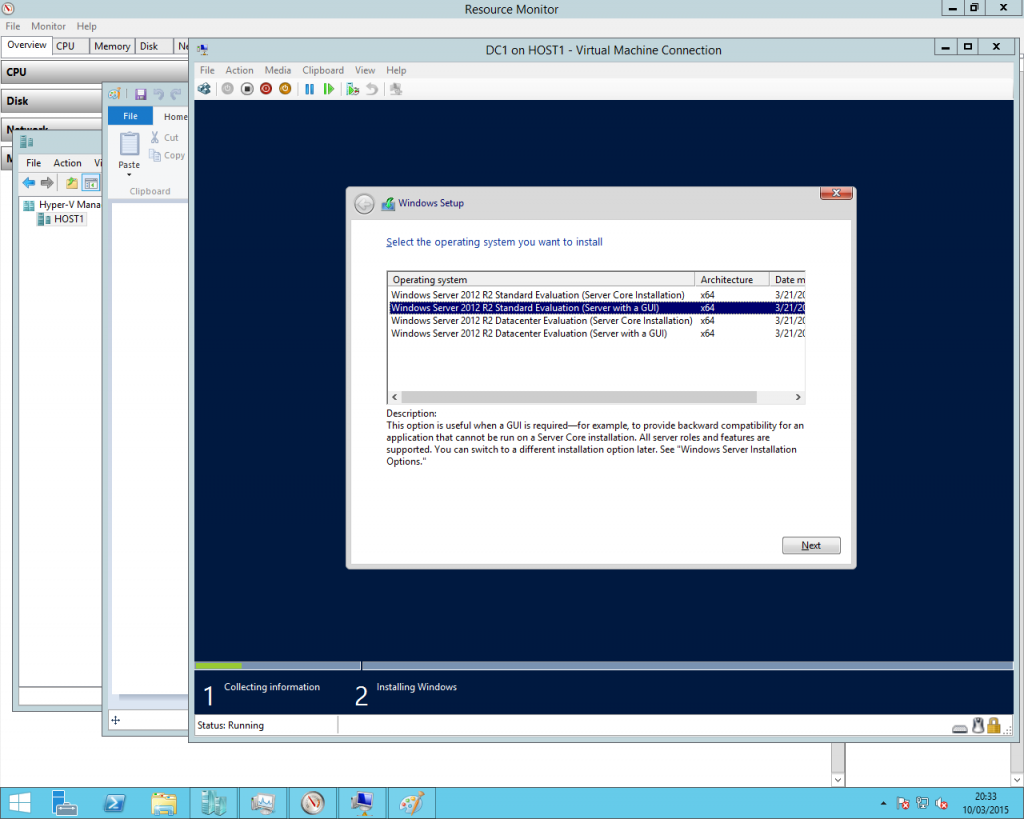 So I managed to get a few VM's up and running, and all talking to each other via a Hyper-V virtual switch (bridged to my home LAN also). WINNING!
New server time
So my other host will be a dual quad core Xeon X5355  system with 32GB of RAM. NICE. It's an older Intel 1u rack server with 8 SAS drives in the enclosure (although I only have one actual drive).  Anyway here's some Windows experience numbers.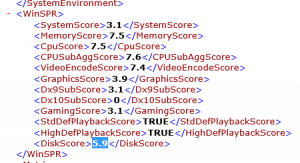 Pretty good on the CPU and RAM, which is always good 😀 – the mobo is Intel S5000pal 
Here's some pics.